The time for another Q&A has come, and this is a long one, so I hope you're all ready. But before I continue on with the Bookish Q&A, be sure to check out my writing Q&A where I discuss my writing past and future plans and how I try to write happy endings for my characters but then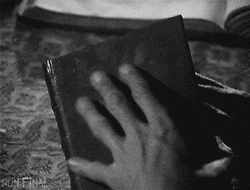 And now onto the Bookish Q&A! As always, feel free to join along and answer these questions. I simply found this Q&A through some Googling. And yes, it is a few years old, so you most likely have already done it and I am very behind on trends as usual. But then again, I've only been blogging since March(?). I still have many things to catch up on and plenty of time to do so! (Says me, who is also trying to write ten million books, read five million novels, and not waste all of my money on more books and writing supplies. #thestruggleisreal)
QUESTIONS:
1. Favorite childhood book?
A: I didn't start reading for fun until about two years ago, but I tried reading books outside of school when I was little. But I did read a few Goosebumps books (I think?). I don't know. I wasn't a reader or writer way back then. How did I live, you ask? I wasn't living.
2. What are you reading right now?
A: I am currently reading Blood Red Road by Moira Young, and so far, it is extremely entertaining.
3. What books do you have on request at the library?
A: I actually don't have any requests down and I haven't for a while in order to give myself time to narrow down my TBR. However, if you keep up with me on social media, then you most likely know I've been buying many physical and digital books to add to my already massive TBR next year. I've decided to accept my reading addiction and that I'll never not be drowning in books. So starting next year, I will begin using the digital library and Netgalley again.
4. Bad book habit?
A: Filling my digital and physical shelves with more stories than I know what to do with. But again, I'm learning to accept my reading addiction and not stress about it. Which is difficult because I'm generally a nervous person. I always feel like I have to do everything at once, but I'm getting better. My 2017-self is going to do great (I think).
5. What do you currently have checked out at the library?
A: Nothing. We've been over this, questionnaire.
6. Do have an e-reader?
A: Yes! I've had a Kindle Paperwhite for about two years now and I adore it. Although, I tend to prefer a physical book over a digital copy.
7. Do you prefer to read one book at a time or several at once?
A: I always go back and forth with this. I got into the habit of reading two to three books at a time, which helped me finish my reading goal by leaps and bounds. But around the beginning of fall this year, I went back to reading one book at a time. Life started to get chaotic and it was stressing me out to have so many stories on my plate at once. But I'm planning to go back to reading multiple books at once starting 2017 since I'll be done with school forever and I'll have so many books to read. YES FOREVER AND NO I'M NOT CRYING YOU ARE.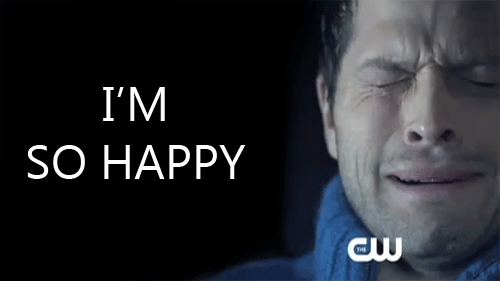 8. Have your reading habits changed since starting a blog?
A: Luckily, my reading habits have been the same. I do have to take more time out of my life to write blog posts and create the header image, but I love doing it. If anything, my reading may have increased. I read sixty-nine books last year and have already read seventy-four this year.
9. Least favorite book you've read this year?
A: The Little Paris Bookshop by Nina George. I wanted to love that book. I really did. But I didn't. It's probably my least favorite book I've ever read. There was something about it that just made me kind of angry? I don't know. I felt very mislead and confused, except for the first 10% of the book. That part was okay.
10. Favorite books you've read this year?
A: Well, this is tough. But not really because I don't toss out five stars often. In fact, I've only given six books five stars this year, and one of them is a re-read. Since there isn't much, I'll list all of my five star reads from this year.
Love Letters to the Dead by Ava Dellaira (beautiful character development and important messages, plus MANY gorgeous quotes).
Walls Around Us by Nova Ren Suma (mysterious and slightly creepy, all tied together with Suma's exquisite writing style).
Made You Up by Francesca Zappia (layered story and characters, plus rep of schizophrenia, which seemed accurate, but I have no way of knowing for certain).
Bone Gap by Laura Ruby (another extremely talented writer with a lyrical voice who created such a unique and weird story with raw characters–LOVED this one).
A Game of Thrones by George R.R. Martin (I don't need to even explain because this series is kind of the best thing that ever happened to the world).
 Anna and the French Kiss by Stephanie Perkins (this was my re-read, and I loved it even more the second time around and I really wish Etienne was real and my boyfriend).
11. How often do you read outside your comfort zone?
A: All the time. As a writer who has story ideas in just about every genre, I want to familiarize myself with as many genres as possible. And the more genres I read, the more I feel my mind and eyes expand. But I refuse to read or write erotica. #sorrynotsorry
12 . What is your reading comfort zone?
A: Fantasy and science-fiction. And contemporary is certainly starting to grow on me. I like a little fluff and love here and there.
13. Can you read on a bus?
A: I've never ridden on a bus, but considering I feel nauseas if I look down too long in a car, I would say no.
14. Favorite place to read?
A: My bed. But I also love my futon.
15. What is your policy on book lending?
A: Nothing because I do NOT lend my books. Unless it's my sister. I trust her. (And all of my reader friends I only know online, otherwise I may be willing to lend more.)
16. Do you dog-ear your books?
A: 
The answer is NO. I'm not that evil.
17. Do you write notes on the margins of your books?
A: No, but I did recently begin highlighting quotes in my books. I was hesitant to write in my books, but they belong to me and I enjoy highlighting. So no on notes, but I tab and highlight.
18. Do you break/crack the spines?
A: I try not to, but sometimes it happens, especially if you're a bookstagrammer like me who needs to books to stay open while snapping a photo.
19. What is your favorite language to read?
A: English because it's all that I know. (For now.)
20. What makes you love a book?
A: Real, relatable characters who show significant development by the end of the story and fascinating plots that keep me guessing. But mainly for me, I need an excellent cast of characters to fall in love with a novel. I do also love my misfits and villains and unheard voices–basically, unreliable narrators–having their stories told.
21. What will inspire you to recommend a book?
A: If I think the novel teaches an important lesson or has inspired me in some way, then I recommend it to others. Even if there's a book I don't love but I think others would enjoy it, I still recommend it. I say everyone should read a book for themselves because writing is purely subjective.
22. Favorite genre?
A: Fantasy and science-fiction will always be some of my favorites, but again, I'll read just about anything.
23. Genre you rarely read but wish you did?
A: Classics and non-fiction. There are some beauties out there, but I simply haven't gotten around to them. One of many goals for 2017 is to read even more genres.
24. Favorite biography?
A: Is Everyone Hanging Out Without Me? by Mindy Kaling because that's the only memoir I've read. See? I need more non-fiction in my life.
25. Have you read a self-help book? Was it helpful?
A: No, but I'm certainly open to it.
26. Favorite cook book?
A: None, because I haven't read any. I get my recipes from Pinterest and that's about it. I like cooking and baking, but I don't love it. It's more of a chore for me.
27. The most inspirational book you've read this year?
A: Oh, this is tough. I feel as though every book inspires me in some way, whether or not I enjoy it. But Made You Up by Francesca Zappia did inspire me to take the elements of mental health more seriously in my own novel. I was hesitant to approach a topic I wasn't originally familiar with, but I wanted to bring awareness to things such as PTSD and bipolar disorder, and give it a both real and positive approach.
After reading Made You Up, I started reading more articles and watching bits of documentaries and studies and interviews to understand these illnesses better. I'm so happy I followed through and plan to explore even more psychological elements in the future.
28. Favorite reading snack?
A: Anything chocolate.
29. Name a case in which hype ruined your reading experience.
A: The Hunger Games series. Both the films and the books. People, including many of my friends, adored it. But I wasn't too fond of the movies. I then read the first book, but I still didn't enjoy it.
30. How often do you agree with critics on books?
A: I typically don't agree with critics on most things. Sometimes I adore indie books that weren't loved and dislike a popular novel or vice-versa. But I typically go towards the indie route with most things. Oh god, does this make me a hipster?
31. How do you feel about giving bad/negative reviews?
A: I think it's important to be honest in any case, but it's all about delivery. I try to be as kind as possible when leaving a negative review and note the positive moments.
32. If you could read in a foreign language, which would it be?
A: French, because I took it for three years and I'm still able to read and understand some of it. I'm hoping to pick it back up after school and become fluent. A girl can dream.
33. Most intimidating book you've read?
A: Without a doubt, A Game of Thrones. Not only is it a beast of a series, but there's such a massive cast of characters. However, after reading the first two books, I've been able to keep it all together. I might forget a name here and there, but who doesn't?
34. Most intimidating book you're nervous to begin?
A: That's a toss-up between the Outlander series and the Harry Potter series. I've read the first four Harry Potter books, and the rest from here are MASSIVE. But if I can read A Game of Thrones, I think I can handle it.
35. Favorite poet?
A: I LOVE poetry, but I have yet to read any full poetry books. Although, I have many pieces of poetry saved on my Pinterest board, my favorites written by Atticus, Erin Hanson, and Rupi Kaur. I also recently purchased Milk and Honey and I'm pretty sure it's going to destroy me.
36. How many books do you generally have checked out of the library?
A: Anywhere between one to three. I try not to go overboard.
37. How often do you return books to the library unread?
A: Very rarely. I usually hoard them. (But shush, that's a secret.)
38. Favorite fictional character?
One second, let me get the list.
Yeah, I'm not even going to attempt this.
39. Favorite fictional villain?
A: I'm not sure I have a favorite villain in literature. Perhaps the Joker in Batman: The Killing Joke. He was utterly heinous in this graphic novel, but I also got a deep look into his back story, which I loved.
40. Books your most likely to bring on vacation?
A: Whatever I'm reading at the time.
41. The longest you've gone without reading?
A: Maybe a day or two, which is extremely rare. As I said, I'm addicted.
42. What distracts you easily while reading?
A: Noises from my family and the vibrations of my phone. Oh, and if I'm reading near a window or outside, the beauty of nature.
43. Name a book you couldn't finish.
A: Too many to name, unfortunately. I'm trying to DNF less, but it's hard when there are so many other books to read.
44. Favorite film adaption of a novel?
A: Divergent. But only the FIRST film. The rest are … I won't get into it.
45. The most disappointing film adaption?
A: Allegiant. JUST DO NOT EVEN GET ME STARTED.
46. Most money you've spent in a bookstore at one time?
A: I don't spend too much in bookstores. Book Outlet is what snags all of my money. I spent over $80 this last Black Friday on Book Outlet and bought 22 books.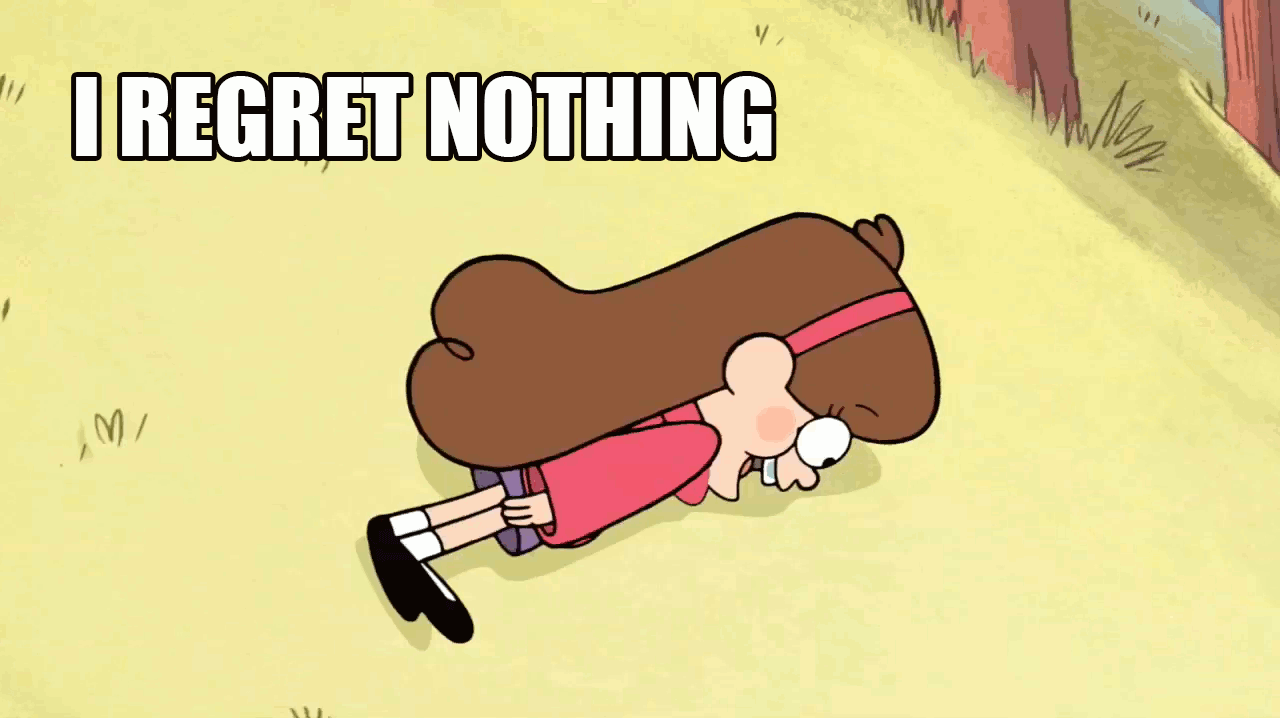 47. How often do you skim a book before reading it?
A: Never. I sometimes read page 69 (the Epic Reads rule) to see if I enjoy the writing style.
48. What would cause you to stop reading a book halfway through it?
A: I suppose if it was too boring or I simply didn't care for the characters. Also, if there's anything offensive.
49. Do you like to keep your books organized?
A: I'M SORRY IS THIS A REAL QUESTION? The answer is yes. OBVIOUSLY. My series are organized by genre and my stand-alone/unfinished series organized by color.
50. Do you prefer to keep your books when you're done or give them away?
A: If I give them four stars and above, then I typically keep them. Anything three stars or below I usually sell to my nearest bookstore and then buy new books. It's a cycle.
51. Are there any books you've been avoiding?
A: Anything by Stephanie Meyer or E.L. James. Sorry, I don't think abuse and stalking is "cute" or "goals".
52. Name a book that made you angry.
A: The Little Paris Bookshop, and I'm still not entirely sure why, but it did.
53. A book you didn't expect to like but did?
A: I actually wasn't expecting to like Love Letters to the Dead, but I ended up loving it. So that was a nice surprise.
54. A book you expected to like but didn't?
A: The Little Paris Bookshop. THIS WILL FOREVER MAKE ME ANGRY THAT THIS BOOK WAS SO ODD AND NONSENSICAL.
55. Favorite guilt-free, guilty-pleasure read?
A: Anna and the French Kiss and every other book in the series. It's fluffy and romantic and quick to read, but it's characters are also very real in my eyes. That's what makes characters like Etienne so attractive to me, because he isn't perfect. (But he's pretty close.)
WHAT NO I AM NOT HYPERVENTILATING AT THE CUTENESS HAHA I AM FINE. 
*deep breath*
(God, I'm such a child, haha.)

LET'S CHAT
Who are some of your favorite fictional characters? I'd love to know, since I have way too many to even begin listing. What have been some of your favorite reads this year? I could always use more recommendations. And as always, leave any other thoughts or comments down below!
ALL THE LOVE AND MAGIC,
TAYLOR MAE MARIE