The holidays are almost upon us and 2016 is coming to a close. Some may be sad this year is ending. But for most of us? I think we can agree this year has been a dumpster fire and we have all been singed by the flames. Maybe even scorched to blackened shards of flesh.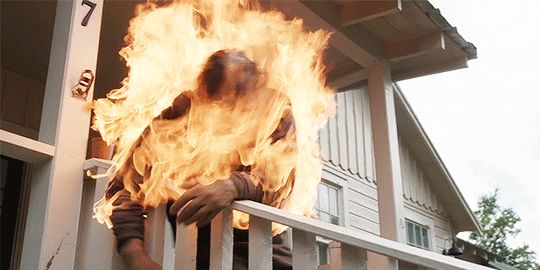 (Okay, maybe that was a bit dramatic and vivid. I've been back writing and my mind is clearly in a morbid place with the rest of my characters. So let's just move on.)
The new year is almost here, and I couldn't be more excited. New years are the time for fresh starts and new dreams. For new beginnings and wishes and goals. I believe it's important to welcome the new year and embrace the change that will come along with it.
Or at least, that's what the old me would've said.
Within this last month, as I approach official adulthood, (I'll be eighteen in under two weeks), I've had many revelations. I've also gone through a few ups and downs. I finished all of my schoolwork for high school, and while I've been waiting for this moment for years, I fear I'll fail at adulthood. I'm scared that I won't become the successful woman I dream of. I was still having difficulty with my WIP and again began to wonder if I wouldn't be able to write again. (Thanks to Outlander, I discovered the passion I was missing. Thanks, Diana.)
But it was through these rocky moments that I became stronger. That I found the beauty I wasn't originally seeing.
THINGS I REALIZED DURING THIS DUMPSTER FIRE YEAR:
It's okay to not be okay

Fight for yourself, not with yourself

Don't block emotions, because eventually, they will break through, stronger than they originally were

Feel everything and embrace it

Read and watch all genres; broaden your creative outlets

Write for yourself, but do your research and be sensitive to others

Treat writing like a job: be consistent and don't worry about messy words–you can fix it later

Speak freely and be opinionated, but know your audience

Embrace differences

It's important, now more than ever, to live a greener life

I don't need (or want) to eat meat anymore

It's okay to be different

It's okay to be opinionated

It's okay not to write

It's okay to feel stuck, because your passion will always come back to you

It's okay to take a break

Minimize

Be open

Enjoy the little things

Stop waiting for the perfect moment and just do it

Do not fret about the past; do not worry about the future

Be kind

Be brave

Be free

Live
These things took time to learn. I had to make mistakes. I had to listen to others. I had to open my mind. I had to listen to music. I had to meditate.
This is how I've grown. This is how I've changed. I will survive whatever life (or my paranoid, imaginative mind) throws at me. I will live. I will be free and brave. You should be, too.
Below, I've created a list of music combined from my 2016 Spotify wrapped playlist (the songs I listened to the most) and my survive playlist, along with a few recent discoveries. Each of these songs stand out the most out of my hundreds upon hundreds of songs because they helped me through these rocky patches. They helped me discover what I truly want in life. They helped me be free.
BE FREE PLAYLIST:
1. "Free" – Broods
5. "Alive" – Sia
9. "Titanium" – David Guetta (feat. Sia)
10. "Tonight" – Secret Nation
11. "Warrior" – AURORA
17. "i believe" – Christina Perri
20. "human" – Christina Perri
LET'S CHAT
This was a bit of a different post than I normally do, but I thought it would be nice to update all of you on my life since I've recently gone through some bigger changes. I've been stuck in this limbo of moving onto the next chapter of my life, wondering if I'll fail and doubting the skills I have, but I'm ready to turn the page. And not just because of the new year. I'm not going to keep waiting for the perfect moment. (I mean, I do have to wait for a few things until I'm eighteen, but it's only about a week, so I think I can manage.)
I don't want to wait anymore. I want to follow my dreams and not fear that I'll fail. Of course, I'll still have ups and downs. It's a simple piece of life, but that doesn't mean I can't improve upon it. I'm happy to say that (I think) I'm going towards a more positive direction and lifestyle than before. I'm excited to continue that.
So tell me, what are your new year's resolutions? What are you hoping to achieve going into the new year? Are you struggling with fears and doubts? Let me know and I would be happy to help in any way I can. (That is, if my playlist didn't already fix everything because these songs are basically magic.)
I hope your holidays and the new year are full of love, magic, laughter, and many dreams coming true. And remember, no matter how dark some times may seem, there is light. There are stars in the sky; there are shadows in the day. Darkness and light go hand-in-hand. They both help us grow. We must accept and allow them to make us stronger.
HAPPY HOLIDAYS AND HAVE A WONDERFUL NEW YEAR!
ALL THE LOVE AND MAGIC,
TAYLOR MAE MARIE